2013 Community Dialogue Series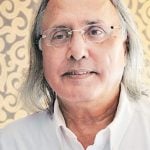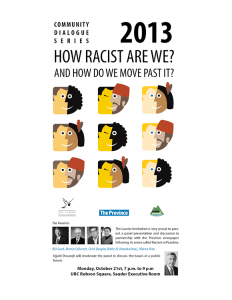 The Laurier Institution was very proud to present a panel presentation and discussion in partnership with the Province newspaper following its series called Racism in Paradise. The forum addressed: "How racist are we? And how do we move past it?"
Ujjal Dosanjh moderated the panel to discuss the issues at a public forum.
When: Monday, October 21st, 7 p.m. to 9 p.m.
Where: UBC Robson Square, Sauder Executive Room
The panelists were as follows:
Martin Collacott
Martin Collacott served with the Department of Foreign Affairs and International Trade of Canada in Saigon, Hong Kong, Beijing, Lagos and Tokyo and as the Chinese-speaking member of the Canadian team that negotiated the establishment of diplomatic relations with the People's Republic of China in 1970. During the latter part of his career Martin Collacott served as High Commissioner to Sri Lanka and Ambassador to Syria, Lebanon and Cambodia.
Bill Good
Bill Good is a Canadian television personality and CKNW radio talk show host. From 1993 to 2001, he anchored the Vancouver edition of Canada Tonight, broadcast on BCTV. Bill Good anchored the CTV News at 6 from 2001 to 2011. Bill Good is known for his unwavering middle-of-the-road position during on-air interviews, which has helped him to stay in his seat much longer than other, more outspoken local radio personalities.
Chief Douglas White III (Kwulasultun)
Elected on December 5th, 2009, to serve a four-year term as Chief of the Snuneymuxw First Nation. Chief White has a B.A. in First Nations Studies (with distinction) from Vancouver Island University and a J.D. from the University of Victoria and is a frequent lecturer at universities on legal issues regarding Aboriginal peoples. Chief White is a member of many boards and committees including: the Snuneymuxw First Nation Economic Development Corporation, the University of Victoria's School of Public Administration's Advisory Board, and a past executive member of the Indigenous Bar Association of Canada. Chief White was elected to the three member political executive of the First Nations Summit, the Summit Task Group, in June 2010 for a three year term.
Winnie Hwo
Former news and current affairs director for Fairchild Television. Currently focused on public engagement work at the David Suzuki Foundation. (Graduate of Ryerson School of Journalism and Simon Fraser University History Department. Recipient of the 1st Chinese language best news report Jack Webster Award. Currently – Journalism Program Advisory Committee Member at Langara College.)