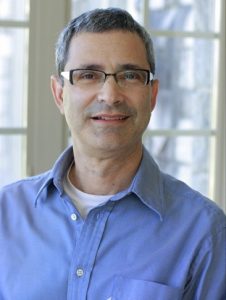 By: James Matthews, a Laurier Institution Blog Contributor
Robert's family history lies at the middle of the great bagel debate: Montreal versus New York. Much to my chagrin, as someone obsessed with carbs, Robert didn't bite when I pressed him on this topic. But Robert made up for that in spades throughout our conversation. He's a wonderful storyteller who exudes a deep passion for the work of The Laurier Institution; a dedication to diversity, equity, and inclusion and, a commitment to ensuring everyone has a seat at the table. Though we met virtually, his compassion felt tangible through the screen. Robert acts as the organization's Chair of the Board. I caught up with him to unpack his family history and what led him in the direction of the Laurier Institution.
Tell me about your roots and your family history
I identify as both a first and a fourth-generation settler. My great grandfather was stuck, if you can call it that, in Montreal during World War I. He was representing a family business in Montreal when the war broke out and couldn't rejoin his family in Warsaw until after the war ended. In the first few years after the war, he returned to Europe, eventually bringing his wife, sister, and six of their nine children to Montreal. Then, a few years later, they relocated to New York (which is too bad—my French would be much better).
Because of Canadian immigration policies in the 1920s, the doors closed to Jewish refugees fleeing Europe. Three of my mother's aunts and their families were trapped. One ended up in Brazil and the other two perished in the Holocaust with their families. Only one son of each of the sisters survived. I identify as a first and fourth-generation settler Canadian, but also as a descendant of refugees fleeing persecution. At some leveI, I feel like this is where my great-grandparents should have stayed. But, I think they probably went to New York because they felt they had a greater chance of getting the other daughters out of Poland and I can't blame them for doing what they thought was required to save them.
I grew up in a small town outside of New York, a factory town. Very multi-ethnic, really diverse. I grew up in a family that was very committed to serving the community. My mother was quite an activist. She supported women who wanted to return to work, school or to volunteer initiatives and mentored about 1000 women in the town in a formal program she provided through the City. She was also a radio broadcaster with a daily talk show. She certainly inspired me.
My uncle was president of the city's Board of Education, then later the State Board of Education; The Distinguished Service Award of the State Board of Education in Connecticut is named after him. Among his proudest achievements was putting seatbelts on city school buses and upgrading the quality of elementary school buildings in poorer neighbourhoods. In my family and community, service to community and civic engagement were ingrained at a deep level.
In high school, I was editor of my high school newspaper during a very fraught period. Violence between black and white students shut down the school, although these tensions were rooted in generations of anti-Black racism, segregated neighbourhoods and inequitable schools. I had to fight the principal of the school to run the news after the school reopened. I did so successfully when the superintendent overruled the principal and let us publish our newspaper. This was a lesson for me in the exercise of privilege due to my family's involvement in civic affairs and our newspaper advisor's connections. I experienced what access to certain kinds of opportunities could mean and what it didn't and couldn't mean for others.
I moved to Canada with my partner about 24 years ago. He had an opportunity in software, and I was writing my dissertation ("Describing Yavneh: The Foundational Traditions of Rabbinic Judaism.") for a PhD at the University of California, Berkeley, at the time.
Tell me about the Laurier Institution in three words
Research, dialogue, complexity…
…that is building on the incredible research done by the founders of The Laurier, and simply taking it to the next level. That way, all of us who are part of this country can participate and think together about the complexities we have to wrestle with. Whether it's climate justice, democracy, governance, racism, the legacies of Indian Residential Schools, whatever it might be, we need to be able to bring our different perspectives, knowledge, and experiences, so that we can think together and dialogue together. That's a very special aspect of what The Laurier has been about.
Why did you decide to get involved?
I was invited to attend a stimulating Laurier Roundtable. The topic was important, the presenter was knowledgeable and engaging, and the mix of 10 to 12 people around the table made for a very rich conversation. I was hooked. I then had the privilege of contributing to efforts to establish an Indigenous Speakers Series at VIU and an annual, global Indigenous rights lecture at UBC. How could I not become involved?
What motivates you to volunteer?
Volunteering is an opportunity to collaborate with other people. I am able to support worthwhile initiatives that contribute to my community, province or country. Without dedicated, passionate volunteers, these initiatives might not happen. My parents taught me to do what I can in my life to leave the world at least a little bit better than the way I found it.
Finish the sentence: "What does a world where diversity is valued and everyone is included mean to you?"
This is what I would describe as a humane world: a world where no one is marginalized because of who they are; everyone can contribute their gifts; no one is left behind; everyone is treated with dignity, the common good is prioritized; we can respectfully disagree and be open to better ideas; rights, responsibilities and opportunities are shared equitably.
What is your favorite moment from your time with the Laurier?
I've been with The Laurier Institution since 2015. The former chair invited me to attend some events, particularly roundtables. It was a chance to meet with about a dozen people around a table and ask questions and hear responses at a level of candor that can't happen when they're giving an address on stage. Those were vital experiences. I was struck by the fact that The Laurier had been established in 1989 by a group of civic leaders who were deeply concerned about a resurgence of long-standing patterns of racism, including resurgent anti-Asian racism at the time.
All this occured in the wake of the bump in real estate development and prices following Expo '86. People of Chinese heritage have been here in BC for 250 years—a quarter of a millennium—and anti-Chinese racism has a long history here. The Laurier hired the distinguished economist Dr. Roslyn Kunin as the founding Executive Director. She undertook a series of economic analyses of real estate as a way to try to bring more clarity to what was actually going on in the real estate economy.
This research was an important attempt to defuse and counter the simplistic scapegoating narrative that was being promoted in some of the local media. It was a rigorous commitment to research and evidence to support thoughtful public discussion of complex issues. Dr. Kunin's leadership and that of nearly 100 former directors and other staff earned The Laurier a reputation as a convener of thoughtful conversations about complex aspects of equity, diversity, inclusion, human rights, Indian Residential Schools and reconciliation, war crimes, climate degradation and justice.
Over 30 years, The Laurier partnered with Canadian universities, including UBC, SFU, VIU, Ryerson and others, as well as with universities outside Canada. We had the opportunity to participate in establishing VIU's annual Indigenous Speakers Series, UBC's annual John Bell Global Indigenous Rights lecture, and the Milton K Wong lecture, which was presented most recently with SFU. Led by my predecessor, Farid Rohani, our landmark collaboration with CBC IDEAS, "Us and Them: Diversity, Division and a World of Difference", enabled us to explore aspects of diversity together with five universities and foundations in Canada, South Africa, India, Israel and Germany in 2017.
We shifted our approach to our Laurier Roundtables in 2016. These roundtables were a meeting place for people from different sectors, perspectives and backgrounds, anand communities to wrestle with a thorny issue in a very frank conversation with a visiting expert. We still felt it was important to gather professors, diplomats, publishers, and civic leaders from various communities in closed-door settings, but we added a few other key elements to this program model. We added university and high school students to the mix.
A good example was one of our Laurier Roundtables in 2016. This was just a few months before the election of Donald Trump as President of the United States. Thanks to the U.S. Consulate, we had an opportunity to have two former members of the US Congress as our guests: one Democrat and one Republican. They had been senior members of Congress; they were committee chairs, former senior military officers and were quite troubled by the prospect of the election of Trump. So, in addition to the roundtable including the kind of people I described—relatively senior leaders in civil society—we added professors who research American politics, as well as graduate and undergraduate students. With the help of Jennifer Reddy, we invited another six or seven young people, all of whom were relatively recent former refugees and immigrants from Pakistan, India, Syria, and Afghanistan.
Just imagine, in the room now, you've got these two senior American political leaders, former military officers. They are carrying the United States Constitution in their pockets but are despairing about what might happen in the election in November. And then we've got professors and researchers, plus these young people who are relatively recent arrivals in Canada. We wanted to unsettle power and asymmetries by inviting people who might not otherwise have that kind of an opportunity to be there.
We ran out of chairs, because we had one more of these young people attend than expected. I needed to get another chair and a senior official of SFU, who runs the downtown campus, was kind enough to bring us another chair. It was then-President Andrew Petter's chair from his office. We sat a young woman, a relatively recent refugee arrival from Syria, in the President of SFU's chair.
After the event ended, I went up to her, and quietly told her whose chair she was sitting in and said to her "one day; this might be your chair."
This interview has been edited for length and clarity.