2012 Multiculturalism Series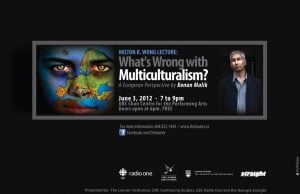 On June 3, 2012, Kenan Malik gave a very engaging and thought-provoking lecture at UBC that pulled together many of the themes he has been writing about recently including immigration, identity, diversity and multiculturalism.
The lecture was broadcast in full on Friday, June 22 at 9 pm (9:30 NT) on the CBC Radio One program "Ideas". To listen to the podcast, go to www.cbc.ca/ideas.